NPHC Plots & Garden Dedication
Saturday, October 19th
10 am | NPHC Plots & Garden Site

In front of I.G. Greer Hall Along Academy Street
(rain location Roess Dining Hall)
Open to All
Appalachian State is proud to recognize and celebrate our National Pan-Hellenic Council (NPHC) by dedicating the NPHC Plots and Garden at Homecoming 2018 on Saturday, September 29th. The dedication ceremony will begin at 10 am at the Plots and Garden site with greetings from campus administrators, alumni, and students. Each organization's plot will be unveiled as we gather and celebrate this historic addition to Appalachian's campus.
Parking
Please know that parking for this event is limited and available on a first come first serve basis. Please arrive early. If you have designated game day parking, we encourage you to utilize your assigned space. Special arrangements have been made with Boone United Methodist Church, located at 471 New Market Blvd for additional parking and to support your engagement in Homecoming.
An Appalachian Shuttle will run continuously between the hours of 9:00 am and 6:00 pm. Pick up and drop off service will take place from the NPHC Plots and Garden area located in front of I.G. Greer between Roess Dining and BB Dougherty.
Please click the link below for additional parking options.
Explore Boone Game Day Parking: http://www.exploreboone.com/things-to-do/guide-game-day-parking/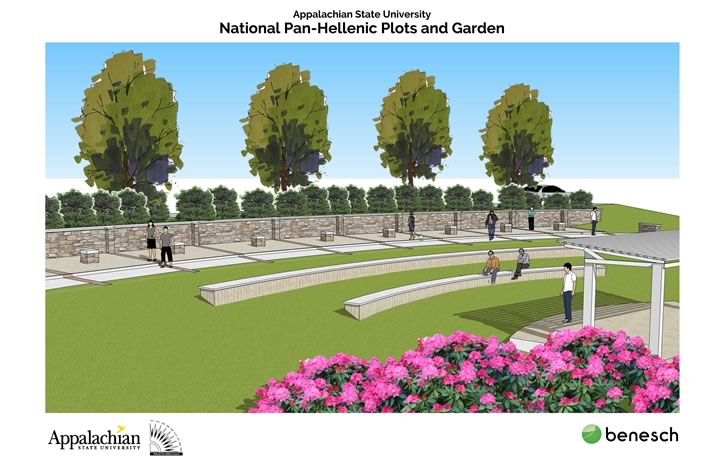 NPHC at Appalachian State
Appalachian's National Pan-Hellenic Council (NPHC) students and alumni are leaders who affect real and meaningful change on campus and in the communities where they live and work. There are nine historically Black Greek lettered organizations that make up the NPHC including:
Alpha Phi Alpha Fraternity, Inc.

Alpha Kappa Alpha Sorority, Inc.

Kappa Alpha Psi Fraternity, Inc.

Omega Psi Phi Fraternity, Inc.

Delta Sigma Theta Sorority, Inc.

Phi Beta Sigma Fraternity, Inc.

Zeta Phi Beta Sorority, Inc.

Sigma Gamma Rho Sorority, Inc.*

Iota Phi Theta Fraternity, Inc.*
Collectively, these organizations are referred to as "The Divine Nine." Appalachian's NPHC community, chartered on March 23, 1992, is committed to social and civic engagement, leadership, scholarship, and service as well as protecting the high ideals of diversity and inclusive excellence.

Like many Black Greek lettered organization traditions, the development of plots can be traced to the days of slavery. In the months following the end of the Civil War, confiscated Confederate land was supposed to be divided into 40-acre plots for homestead development for former slaves. The Divine Nine constructs plots to symbolically and physically represent each organization's presence on campus and to give alumni and current members a location for reflection and celebration. Each plot is adorned with the shield of the organization, the organization's name, the organization's founding date, the organization's charter date as well as the name of the Appalachian chapter. For more information about our NPHC community visit nphc.appstate.edu.
*indicates organizations not currently chartered at Appalachian State